CYBERMODZ PLATFORM
CYBERMODZ PLATFORM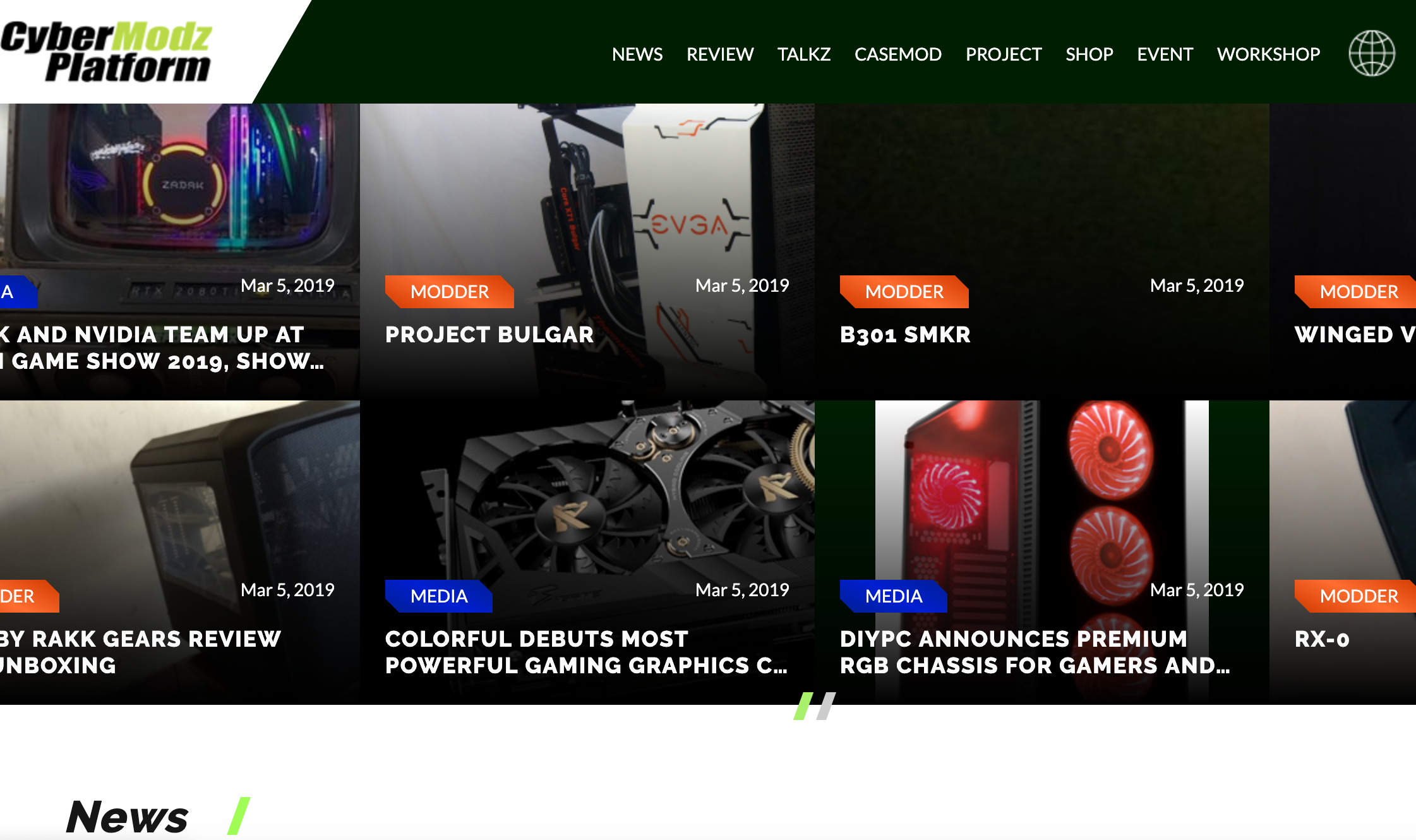 With more than 20 years PR/Marketing operation experiences, knowledge and worldwide marketing resources, CyberMedia is a global marketing team and created the CyberModz Platform in order to promote and enlarge the entire PC Hardware market and let PC DIY return to its glory.
CyberMedia is an international PR and communication firm specializing in the tech industry who provides full PR and marketing services, producing effective and creative solutions for brands to expand into global markets. CyberMedia is an expert at supporting products into their suitable market; connecting brand with the right target audience.
CyberMedia has resources, partners and colleagues around the world, including Europe, Middle East, Asia Pacific, Chia, US and Latin America.
Therefore, CyberMedia has established CyberModz Platform
CyberMedia Milestones
2005 –
1st PR agency in Taiwan that provides worldwide PR services for IT/PC/Tech industry
Exclusive AD Agency of Heise Medien GmbH & Co. KG
2006 –
Exclusive AD Agency of Tomshardware Italy and HEXUS UK,
2007 –
Exclusive AD Agency for B2B media, such as Digitimes, PC Retail UK, Channel Partner Ukraine…etc.
2008 –
Exclusive AD Agency for Futuremark
Launch the first ever online overclocking event worldwide with Futuremark, sponsored by ASUS
2009 –
Exclusive AD Agency for Tomshardware worldwide,including USA, France, Italy, Germany and Russia
2010 ~ 2011 –
Hosts online overclocking event worldwide with Futuremark quarterly; regular sponsors included MSI, Gigabyte, Asrock, ECS, Foxconn, Kingston Palit, Nanya, Enermax, FSP…etc.
2012
Transforms into a fully integrated marketing services agency, specializing in PR, AD, social media, event management, and video production
2014 –
Provides marketing service for not only PC Components companies but also Tech/lifestyle/gadget products such as e-Cigarette and IP-Camera
2015 –
Hosts a successful press event for Gigabyte at Gamescom Germany
Sponsors famous e-Sport teams on various marketing activities
2016 –
Hosts press events and seminars in South East Asia such as Thailand and Vietnam
2017 –
Hosts the first ever live modding event with TAITRA at COMPUTEX, inviting participants and media from all over the world
2018 –
Hosts India-Taiwan Electronics Meets 2018
2019 –
Launches the multifunctional CyberModz platform for brands, media and modders
CyberModz Platform reaches out to all PC lovers, containing worldwide Modders, Brands, Media and PC Enthusiasts. Everyone can benefit from CyberModz!
Modders can get profit from PC Built, Workshop, Ads share, event participation, Sponsorship… and last but not least the enjoyment of doing what they love! Case Modding!
Brands works with dedicated PC/DIY Modders, marketing and promoting their own products at CyberModz. Media and PC Enthusiasts can extend their news and article on CyberModz which helps with their exposure.
CyberModz plans and execute global or local competition as well as marketing promotions. Not to mention we plan to bring in campus DIY workshops that for sure will help expand the Modding community!
Every visitor can receive the latest global/local news, article, product and sales information and they can even purchase products directly!
Multiway connections and Multiple benefits
If you are an outstanding brand and manufacturer, join CyberModz to explore outstanding modders to sponsor, to help with the promotion of your brand image and sales.
If you are an incredible Modder, join CyberModz to increase benefits such as increase of exposures and publicity, Ads sharing, event participation….and so on.
If you are a passionate PC lover, stay tune for the most up-to-date articles provided by our excellent media partners and journalists!
Welcome all PC enthusiasts to join CyberModz and make PC DIY return to glory! Together!
To visit the website please visit: https://cybermodz.com/