NEWS
Huntkey Launches the Latest SZN607 Power Strip with Dual USB and Child Protection
February 26th, 2016, Shenzhen, China – Huntkey, a global professional provider of power supplies and power strips, is announcing a new member in its SZN Series of power strip -- the SZN607 power strip.

The SZN Series is composed of four models -- SZN401, SZN501, SZN507 and SZN607. All models are equipped with universal standard sockets, which are widely used in many countries around the world, including Vietnam, India, Dubai, Kazakhstan, Peru, and Egypt.

The SZN607 power strip is equipped with two USB ports, allowing users to charge two USB devices at the same time, without using a charger. The combined output can be up to 5V/2.4A. Meanwhile, it has five universal sockets, meaning five different devices can be used at the same time. In total, a maximum of seven devices can be in use at the same time.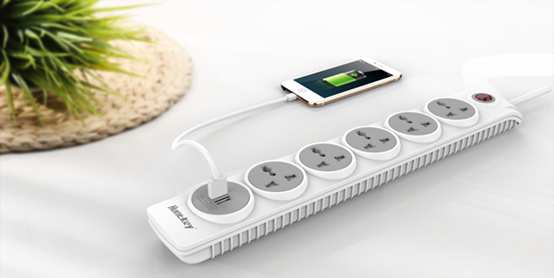 Another highlight of the SZN607 power strip is the child protection function. Each socket is equipped with child-protective shutters which close over the sockets entirely. The shutters can be opened only when both the Live Wire hole and the Null Wire hole are inserted simultaneously. In other words, the socket will not be electrified when somebody accidentally inserts a finger into a pin hole, therefore protecting users, especially children, from the danger of electric shock.
Last but not least, an integral copper bar design is adopted as the internal structure, for less welding spots and low temperature rise. There is no solder joint, which avoids defects caused by cold solder joints and dry joints, therefore enhancing the reliability of the power strip. Even at full capacity, the rise in temperature is low, which prevents the copper bar from overheating and catching fire. The SZN607 power strip is designed for the maximum safety of users.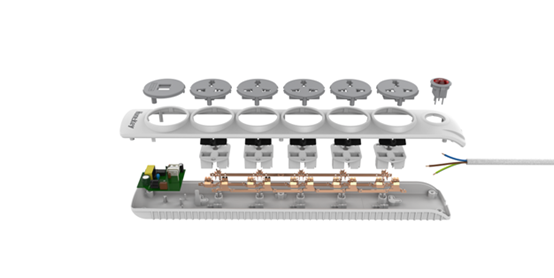 The SZN607 power strip, together with the three other models in the SZN Series, is dedicated to providing the best quality and the ultimate safety for daily use. With four different models of different functions and numbers of sockets, the SZN Series is able to satisfy the demands of most users.
View More News at CyberMedia Press Center: https://www.cybermedia.com.tw/news
About Huntkey
Huntkey Enterprise Group, founded in 1995, is a professional provider that specialized in the development, design, manufacturing and marketing of PC power supplies, industrial power supplies, surge protectors, adapters, chargers, etc. The industrial parks of Huntkey in Shenzhen, Heyuan and Hefei, which cover a total area of over 750,000 square meters, are now the largest IT manufacturing base in mainland China. Huntkey, with over 15,000 employees has set up its branch companies in the USA, Hong Kong and Japan. Its clients are found all over the world in more than 50 countries and regions. The main clients include Lenovo, DELL, Huawei, Walmart, Bestbuy and so on. For more information about Huntkey, please visit http://dealer.huntkey.com/en/.