NEWS
Giada's Latest OPS Compliant Mini PC - The P211 to be Introduced to the Italian Digital Signage Market
June 23th, 2015, Rome, Italy – Giada Technology, an industry leader in mini PCs, embedded computing and servers, is releasing their latest OPS mini-PC that is perfect for digital signage field.
Giada P211 is ideal for OPS digital signage applications like; electronic whiteboards, financial systems, super markets, restaurants, mass media, digital cinemas, hospitals, and educational institutions.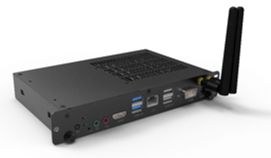 What is OPS?
OPS stands for the "Open Pluggable Specification" and was initiated by Intel. It is the first Industry initiative to standardize display and video signage solutions for intelligent, cost-effective, and easily integrated modular digital signage applications. It increases flexibility of digital signage applications and simplifies digital signage development and deployment by enabling easier installation and hassle-free maintenance.
The Giada P211 is an OPS compliant Mini PC for simplified installation, maintenance and usage of digital signage infrastructure. The latest 5th generation Intel® CoreTM i5 / i3 CPU and Intel® HD Graphics 5500/6000 with 4K video support provide outstanding performance for digital signage and electronic whiteboard applications.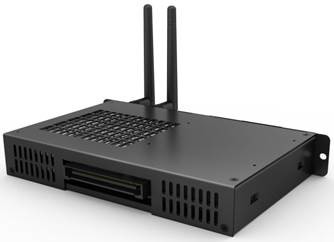 Giada's P211 is an OPS Compliant Mini PC that supports remote control features and enables easier installation, use, and maintenance of digital signage and electronic whiteboards. It was especially designed for long time operation with a metal chassis for optimum heat dissipation while using the Intel® Broadwell-U CoreTM i5 / i3 CPU with a low power consumption of 15W TDP. It features Ultra HD that packs around four times as many pixels into screens compared to existing HD sets, producing a sharper, higher-density picture. It supports HDMI 1.4a output for Ultra High-definition video output (1080p, 2160p) and multi-channel digital audio.
Apart from the OPS JAE interface, the P211 provides rich connectivity with 2 x USB2.0, 2 x USB3.0, 1 x COM, 2 x Mini PCIE (for mSATA III, Wi-Fi/BT/3G) and 1 x SIM card slot for 3G.
For the purpose of ease of use and efficient manageability, Giada has applied its patented JAHC unattended technology to P211, with built-in capabilities for unattended operations such as auto power on when connected to power, a scheduled power on/off and IR remote control before the OS is on.
It is fully compatible with majority of popular operating systems including Microsoft Windows® 7, Windows® 8.1 and Linux.
To learn more about Giada's P211 please visit: http://www.giadatech.com/index.php?act=pShow&id=74
To learn more about Giada's entire line up of compact desktop PCs, servers and motherboards please visit http://www.Giadatech.com
View More News at CyberMedia Press Center: https://www.cybermedia.com.tw/news
About Giada
Giada is a premium brand of JEHE (Shenzhen JEHE Technology Development Co., Ltd), www.giadatech.com the industry leader in embedded computing and server expertise for small and medium enterprises. Giada is Intel's very first official partner in China & Intel Intelligent Systems Alliance (ISA) Member. Giada has, from 2003, powered its way into the ranks of the country's top three manufacturers, and nurtured a long and fruitful relationship with Intel, AMD and nVidia.