NEWS
Giada Introduces Fan-less Industry Control Series Mini PC – The F110D in Europe
Improves data processing performance while reducing power consumption


April 22nd, 2015 Roma, Italia – Giada Technology, an industry leader in Mini PCs, embedded systems and servers for small & medium enterprises, is proud to unveil a compact fan-less mini pc system - the F110D. With a powerful new Intel® Baytrail Celeron® Processor and lower power consumption, the F110D primarily targets organizations in industry control applications and will provide a perfect solution for digital signage including electric white boards, outdoor ads, cinema trailers and other types.
The F110D adopts the latest Intel Celeron® processor and Intel® HD graphics GPU core, greatly improving data processing performance while reducing the power consumption. The Intel® HD graphics brings the digital signage users a stunning 1080p output.
The F110D is a fan-less compact mini PC and the excellent cooling solution makes it stable during high performance running. The fanless design means customers aren't required to consistently check intake and exhaust fans, which can lead to dead components when not maintained. There's also less power consumption. In addition, the F110D applies the Giada patented JAHC (Jehe Active Hardware Control) unmanned technology, making it competitive in stable operations and easy for maintenance. Giada's unmanned hardware/software feature allows for power automation and supports 3 key functions: RTC Wake Up, Auto Power On after AC Loss and IR Remote Control before the OS is on.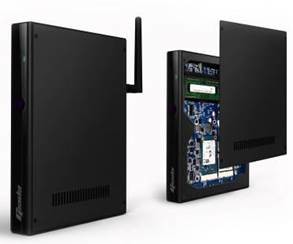 Featuring a slim design in a robust metal casing and an ultra-compact size – only 190mm x 149mm x 26mm, the Giada F110D offers unprecedented performance in its category. Thanks to the optional VESA Mount fixing mechanism, users can enjoy flexibility in installation and comfort of use. For example, the F110D can be easily attached to the back of a monitor or TV set, a great solution for "space challenged" scenarios.
The F110D is equipped with dual Gigabit LAN ports supporting 1Gb/s data transfer rate, ideal for seamless internet/intranet connections, or gateway server solutions. The F110D Dual COM Ports are present too for more device connection possibilities.
HDMI version 1.4 with support for HDCP is provided for video signal output. The F110D also equips a Wi-Fi module to support 802.11b/g/n and Bluetooth® network standards. Storage is plentiful with a 500GB SATA II hard drive.
The highlights of the Giada F110D
Fan-less design, passive cooling solution, reliable unattended JAHC technology, ideal for natural environments requiring low noise and unattended applications.
F110D-N: Intel® Celeron® Dual-Core processor N2087 1.58~2.16GHz

Max. TDP 4.3 W.

F110D-J: Intel® Celeron® Quad-Core processor J1900 Burst frequency 2.41 GHz

Max. TDP 10 W.

Measuring at 190mm x 149mm x 26mm, extremely lightweight and portable.
4 USB 2.0 ports & 1 USB 3.0 port for external data sharing.
High definition picture resolution with 1080p.
Learn more about Giada's entire line up of Mini PCs, embedded systems and servers for small & medium enterprises at: www.Giadatech.com
For sales inquiries please contact sales_EU@giadatech.com or your Giada partner in Italy: Mk Tech srl., http://www.gruppotod.it, Tel.+39 02 27 3217 500
View More News at CyberMedia Press Center: https://www.cybermedia.com.tw/news
About Giada
Giada is a premium brand of JEHE (Shenzhen JEHE Technology Development Co., Ltd), the leader in embedded computing and server expert for small and medium enterprise. Giada was Nvidia's very first official partner in China for add-in cards. Since powering its way into the ranks of the country's top three manufacturers in 2003, Giada has also built up a long and fruitful relationship with CPU makers Intel and AMD.