NEWS
Giada's New Barebone PC - The i58B – Ready for the French Digital Signage Market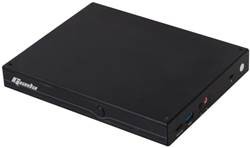 June 09th, 2015, Paris, France – Giada Technology, an industry leader in mini PCs, embedded computing and servers for small and medium enterprises, announced a round of new products at this year's Computex show in Taipei, Taiwan including the new barebone PC, the i58B.
According to the latest Digital Signage Business Climate Index (DBCI) in DE/AT/CH the industry has had a successful year in 2014 and is looking forward to even more growth in 2015. Compared to November and December the business climate has increased slightly in January. Giada's new barebone PC is ready to take advantage of that growing market in the EU. The i58B adopts the latest Broadwell i5/i7 processor for increased performance with minimized power-consumption. The integrated HD5500 graphics provide support for 4K HD output, while hassle-free disassembly allows unit-customization with RAM, SSDs, and Wi-Fi and Bluetooth or 3G modules to suit the needs of any user.
Adopting latest Intel Broadwell Core i5- 5200U CPU processor with Dual Core / 4 threads clocked at a top 2.7GHz, paired with the HD5500 series graphics, the i58B brings better operational performance and visual experience. The i58B consumes less than 30W (including CPU, SSD, HDD, Memory, WiFi) of power at full running so the power efficiency design saves energy and money at the same time.
Ultra-slim and compact, this book-sized mini-PC is easy-to-deploy and fits seamlessly into business and home-based applications. It is easy to hide unobtrusively as it can be mounted at the rear of an LCD monitor or TV with an optional VESA mounting kit.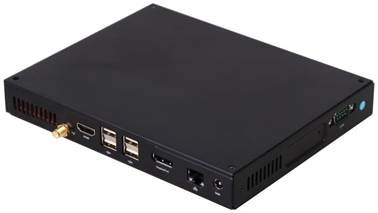 The i58B provides ample I/O interfaces including four USB 2.0 ports and one USB 3.0 port for peripheral connections. It also has ports for HDMI 1.4a, DP 1.2, Intel Gigabit LAN port, two Mini PCIE (MPCIE1, Full-length for mSATA III SSD; MPCIE2, Full-length for WiFI/BT/3G), one SIM Card slot for 3G connectivity and one COM interface.
Another strong point of the i58B is the DisplayPort 1.2 ability which supports PC resolutions of up to 3200x2000 @60Hz stereoscopic 3D graphics and all HDTV resolutions including 1080p. With DisplayPort 1.2 you can have daisy chaining of multiple monitors with a maximum total throughput of up to 21.6Gbps.
With the robust metal housing of the chassis, you get enhanced protection against environmental impacts as well as an optimized heat dissipation benefit. There is further optimized heat dissipation with the integrated heat pipe technology that allows heat from the CPU (the system's hottest component) to be transferred into a heat sink. It also comes with a server-class cooling fan to keep the unit running cool. All these designs help to ensure that the i58B runs cool and with stability and high performance in its daily operations.
With a modularized design, there is easy assembly and disassembly for set up or a change out of memory modules, SSD drives, or Wi-Fi, BT or 3G modules. There is even enhanced protection against EMI interference. But even remote operations are taken care of thanks to Giada's JAHC Unattended Technology. JAHC provides built-in capabilities for unattended operations such as auto power on when connected to power, or a scheduled power on/off. This delivers ease of use and efficient manageability.
It is fully compatible with majority of popular operating systems including Microsoft Windows® 7, Windows® 8 and Linux.
The i58B is targeted at high-end digital signage market applications such as: KIOSKs, retail/Point of sale POS stations, electronic whiteboards, financial systems, super markets, restaurants, mass media, digital cinemas, hospitals, and educational environments, among others.
To learn more about Giada's i58B please visit: http://www.giadatech.com/index.php?act=pShow&id=17
To learn more about Giada's entire line up of compact desktop PCs, servers and motherboards please visit http://www.Giadatech.com
View More News at CyberMedia Press Center: https://www.cybermedia.com.tw/news
About Giada
Giada is a premium brand of JEHE (Shenzhen JEHE Technology Development Co., Ltd), www.giadatech.com the industry leader in embedded computing and server expertise for small and medium enterprises. Giada is Intel's very first official partner in China & Intel Intelligent Systems Alliance (ISA) Member. Giada has, from 2003, powered its way into the ranks of the country's top three manufacturers, and nurtured a long and fruitful relationship with Intel, AMD and nVidia.