NEWS
GAMESCOM 2015 SUR?RISE Contest from MSI & G2A
Join and Win MSI GAMING Gears and other Prizes
July 29th, 2015 Taipei, Taiwan MSI, world leader in motherboard design and G2A the fastest growing marketplace for digital gaming products and services G2A.COM are pleased to launch a SUR?RISE contest on Tuesday, July 28. This contest is quite easy and you can qualify the secret prizes sweepstakes by completing three simple steps. It's so secret that we cannot even tell you what the amazing prizes are until August 5th. Be the very first who will receive the brand new MSI gear, and have a chance on winning MSI hot gadgets. Also, up to 80 fans can win 10 EUR G2A Giftcard in this contest. The great reveal will take place at the MSI conference during GAMESCOM 2015. The winners will be announced on August 18th, 2015 on MSI and G2A.COM social media profiles and the event page as well. Make sure not to miss it!
Go to our SUR?RISE event page: https://www.g2a.com/MSI
Event Duration:
July 28 - August 16, 2015
SUR?RISE Prizes:
4x Newest Solid Gear from MSI
5x Hot gadget from MSI
80x 10 EUR G2A Giftcard
The total value of prizes is equivalent to USD 2000.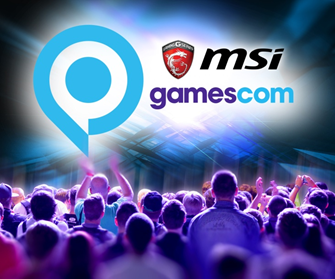 FUN for GAMESCOM 2015
Experience the newest MSI Gaming Gear at GAMESCOM 2015 show in Germany from August 6th to 9th! If you can't make it to Germany, MSI and our partner G2A.COM will offer you great online actions around the show. Stay tuned!
MSI Booth
Venue: Hall 8, Stand A051
Date: 6-9, August, 2015
G2A Booth
Venue: Hall 2.1, Stand A030
Date: 5-9, August, 2015
For more products and events please go to:
MSI official website: http://gaming.msi.com/
MSI Global Fanpage: https://www.facebook.com/MSIHQFANCLUB
View More News at CyberMedia Press Center: https://www.cybermedia.com.tw/news
About MSI
As a world leading gaming brand, MSI keeps raising the bar in design and innovation of its GAMING Series products and has been a long-term sponsor of global eSports teams. Outstanding teamwork of MSI's senior R&D staff and professional gamers culminates in the creation of every MSI GAMING product.
At the core of MSI's innovation remains an unwavering commitment to provide Top Player with Top Choice products. Apart from its partnership with more than 15 pro-gaming teams around the world, MSI is also an active participant in international gaming tournaments and the host of MSI MGA (Masters Gaming Arena, a world-renowned gaming event. Thrilling in quality and performance, the MSI GAMING Series has proven to meet the most demanding tournament needs, bringing out pro-gamers' best performance and leading them to one victory after another in the global eSports scene. All the above accounts for dominant eSports teams' and professional gamers' trust and decision to choose the MSI GAMING Series that helps them achieve more in their quest for world championship.
More than a pioneering gaming brand, MSI is a trusted partner for customers to rely on, whether they are out in the competitive gaming scene, embracing their digital life, or anywhere in their world.
For more MSI GAMING products info please go to: http://gaming.msi.com/
MSI GLOBAL FAN CLUB: https://www.facebook.com/MSIHQFANCLUB