NEWS
SHOUT OUT for MSI Online Campaign Launched Today
MSI Z170 motherboard users are invited to submit reviews for a chance to win superb prizes worth over $5,000

August 19, 2015 Taipei, Taiwan MSI, world leader in motherboard design, today announced "SHOUT OUT for MSI", an one-month online campaign to give a shout-out to the loyal customers who own the latest MSI Z170 motherboards. Just need a few steps to enter and then you can stand a chance on winning superb prizes worth more than $5,000 in total. For detailed information: http://goo.gl/2e7HV0
SHOUT OUT for MSI & Win Hot Gears to Optimize Your PC Build
From today until 13th September, 2015, all the MSI Z170 motherboard users can join the campaign by shouting out for MSI, that is, post a motherboard review on any online platforms such as forums and blogs, and submit it at SHOUT OUT for MSI event page. In exchange of their shout-out, the entrants have the opportunity to win prizes including Intel 750 Series SSD, G.SKILL DDR4 Memory, SteelSeries APEX Gaming Keyboard and €20 G2A Gift Card.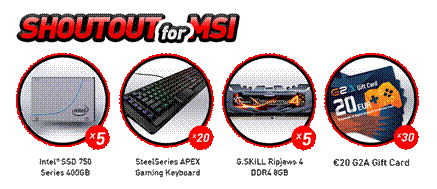 Bring the Most Out of Your MSI Z170 GAMING Motherboards
Coordinating with the most supportive partners - Intel, G.SKILL, SteelSeries and G2A.com, MSI would like to help you bring the most out of your Z170 motherboards. The new MSI Z170 GAMING motherboards are available in three series: Enthusiast GAMING, Performance GAMING and Arsenal GAMING. Each series is packed with loads of GAMING features to optimize speed, sound and stability through DDR4 Boost, Audio Boost, SteelSeries Certified, Gaming Hotkeys, USB 3.1 and includes unique items dedicated to specific gamers. Whether playing games competitively, occasionally or casually, there is a tailored MSI GAMING motherboard to serve the most demanding gamers. For more product information please go to http://goo.gl/uq7ArG
View More News at CyberMedia Press Center: https://www.cybermedia.com.tw/news
About MSI
As a world leading gaming brand, MSI keeps raising the bar in design and innovation of its GAMING Series products and has been a long-term sponsor of global eSports teams. Outstanding teamwork of MSI's senior R&D staff and professional gamers culminates in the creation of every MSI GAMING product.
At the core of MSI's innovation remains an unwavering commitment to provide Top Player with Top Choice products. Apart from its partnership with more than 15 pro-gaming teams around the world, MSI is also an active participant in international gaming tournaments and the host of MSI MGA (Masters Gaming Arena, a world-renowned gaming event. Thrilling in quality and performance, the MSI GAMING Series has proven to meet the most demanding tournament needs, bringing out pro-gamers' best performance and leading them to one victory after another in the global eSports scene. All the above accounts for dominant eSports teams' and professional gamers' trust and decision to choose the MSI GAMING Series that helps them achieve more in their quest for world championship.
More than a pioneering gaming brand, MSI is a trusted partner for customers to rely on, whether they are out in the competitive gaming scene, embracing their digital life, or anywhere in their world.
For more MSI GAMING products info please go to: http://gaming.msi.com/
MSI GLOBAL FAN CLUB: https://www.facebook.com/MSIHQFANCLUB