NEWS
BIOSTAR Announces all its Intel 100-series Motherboards will Support Intel Next-Gen Processors
Full support for Next-Gen Intel Core processors with all existing BIOSTAR 100-series motherboards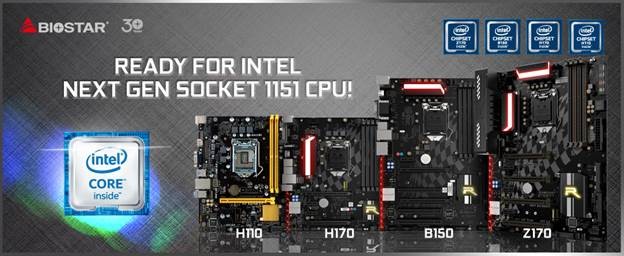 October 21st, 2016, TAIPEI, TAIWAN – BIOSTAR is proud to announce that its complete lineup of currently released Intel 100-series chipset motherboards will fully support the next-generation LGA 1151 socket processors from Intel. A BIOS update is soon to be available in the official BIOSTAR website. This BIOS update for your board will allow improved compatibility and performance enhancements by using the latest Intel processors with improved specifications and technical developments.
BIOSTAR delivers consistent reliability, performance and support to its customers and its line-up of motherboards reflect this allowing them renewed and extended usability for existing users to benefit from the upcoming next-gen Intel CPUs.
Intel's next-generation Core processors will bring performance and efficiency improvements to modern systems including the benefits of faster and more responsive computing, support for Ultra HD 4K content, improved gaming performance on the go and less power draw.
Chipset

Model

Z170

Z170GTN

Z170GT7

Gaming Z170X

Gaming Z170W

Gaming Z170T

Hi-Fi Z170Z5

H170

H170GT3

Gaming H170T

Hi-Fi H170S3H

Hi-Fi H170Z3

B150

B150GTN

B150ET3

B150GT3

B150GT5

Hi-Fi B150 PIO D4

Hi-Fi B150S5

Hi-Fi B150S1 D4

Hi-Fi B150Z5

Hi-Fi B150S1

TB150 PRO

B150MD PRO D4

H110

H110MGC

H110MLC

H110MDS2 PRO D4

H110MH PRO D4

H110MD PRO D4

H110MG PRO D4

H110MD PRO

H110MG PRO

H110MD4

H110MGC D4

H110MHV3
Please check out the latest news about BIOS update for all BIOSTAR Intel 100 series motherboards on BIOSTAR official website and Facebook page.
Visit the new BIOSTAR website at: http://www.biostar.com.tw
Read more about BIOSTAR 30 Years anniversary: http://www.biostar.com.tw/app/en/event/30years/index.htm
View More News at CyberMedia Press Center: https://www.cybermedia.com.tw/news
ABOUT BIOSTAR
BIOSTAR, is a brand dedicated to the production of motherboards, graphics cards, industrial computing systems, IOT, and healthcare solution. Since its establishment in 1986, the BIOSTAR GROUP has become a major motherboard supplier in the IT industry as well as in IOT, Internet Of Things. In order to pursue the best quality and aesthetic design, BIOSTAR has invested heavily in ID design, equipment, global marketing research as well as R & D. With a constant emphasis on quality, BIOSTAR always seeks to beyond better and race to the future.