NEWS
ENTER THE NEW ERA OF BITCOIN MINING WITH BIOSTAR TB250-BTC DESIGNED FOR PROFESSIONAL BITCOIN MINERS
Enhanced efficiency, endurance and expandability for serious miners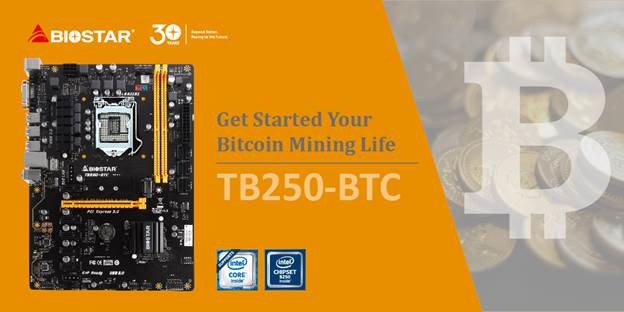 January 26th, 2017, Taipei, Taiwan – BIOSTAR proudly announces its latest B250 motherboard to join its product line this generation with the introduction of the BIOSTAR TB250-BTC mining motherboard designed for dense bitcoin mining operations. The new BIOSTAR TB250-BTC motherboard features enhancements provided by the new Intel 200 series as well as improved efficiency by the latest 7th-generation processors. The BIOSTAR TB250-BTC is designed to be the newest, most stable and durable foundation for bitcoin and cryptocurrency mining. Bitcoin mining and other cryptocurrency have become more widely known these days and the recent resurgence in Bitcoin price has awaken interest in both old and new miners in establishing themselves again in the mining scene. With new GPUs offering more efficiency than previous generation, more GPUs can now be utilized for faster ROI. This trend in utilizing multiple VGA cards can cause extremely hot operating conditions which may affect system stability which may lead to operation disruption with breakdowns and failures. That said, the new BIOSTAR TB250-BTC focuses on improving stability and endurance for extreme operating conditions that can cause potential downtime or similar problems stemming from maintenance issues stemming from unstable motherboards due to extended usage.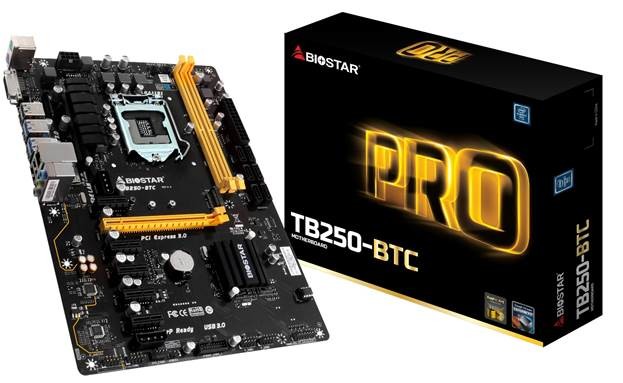 Crypto-currency trends for Bitcoin and other popular cryptocurrency require dedicating a system that can run for long periods of hours under stress which can easily deteriorate motherboard components. With the BIOSTAR TB250-BTC motherboard, this deterioration is reduced and the rate of which is is slowed down providing less maintenance cost which gives you the benefit of improved ROI. BIOSTAR achieves this by using its expertise in developing high-endurance and stable components for this application.
The new BIOSTAR TB250-BTC motherboard will support processors for the LGA1151 socket and will have native support for RAM with up to DDR4-2400 speeds and 32GB in total capacity. The motherboard will feature high-reliability LAN ethernet solution with Gigabit speeds for faster network utilization. Built-in M.2 connector allows high-speed storage support allowing you minimal cable use for maximum cabinet utilization for cards.
Choosing Your Hardware
There's a lot to consider before getting started in setting up your bitcoin mining rig. We highly recommend starting with AMD graphics card like the Radeon RX 470 VGA. After which, other components are chosen and the necessary parts are ready including PCI-e risers and if you'll be using around six graphics cards, we highly recommend two separate power supplies. The BIOSTAR TB250-BTC features two dedicated AUX power connector for reinforced power delivery for superior system stability and enhance GPU performance.
Specification
Chipset

Intel B250

CPU SUPPORT

Intel® Core™ i7 LGA 1151 Processor
Intel® Core™ i5 LGA 1151 Processor
Intel® Core™ i3 LGA 1151 Processor
Intel® Pentium® LGA 1151 Processor
Maximum CPU TDP (Thermal Design Power) : 95Watt

MEMORY

Supports Dual Channel DDR4 2400/2133/1866 MHz
2 x DDR4 DIMM Memory Slot
Max. Supports up to 32GB Memory

* DDR4 2400 for 7th Generation Intel® Core™ Processor Family

EXPANSION SLOT

1 x PCI-E x16 3.0 Slot
5 x PCI-E x1 3.0 Slot

STORAGE

6 x SATA3 Connector
1 x M.2 Key M 32Gb/s Connector

USB

4 x USB 3.0 Port
6 x USB 2.0 Port

LAN

Realtek RTL8111H - 10/100/1000 Controller

Supports Super LAN Surge Protection

INTEGRATED VIDEO

By CPU model
Supports DX12
Supports HDCP

CODEC

Realtek ALC887 8-Channel HD Audio

Supports HD Audio
For more information on the BIOSTAR RACING B250GT5, see official product page here:
http://www.biostar.com.tw/app/en/mb/introduction.php?S_ID=865

Visit the new BIOSTAR website at: http://www.biostar.com.tw
For more information on the BIOSTAR TB250 PRO go to:
For Bitcoin Mining Hardware Guide, go to: http://www.biostar.com.tw/app/en/event/bitcoin/index.htm
View More News at CyberMedia Press Center: https://www.cybermedia.com.tw/news
ABOUT BIOSTAR
BIOSTAR, is a brand dedicated to the production of motherboards, graphics cards, industrial computing systems, IOT, and healthcare solution. Since its establishment in 1986, the BIOSTAR GROUP has become a major motherboard supplier in the IT industry as well as in IOT, Internet Of Things. In order to pursue the best quality and aesthetic design, BIOSTAR has invested heavily in ID design, equipment, global marketing research as well as R & D. With a constant emphasis on quality, BIOSTAR always seeks to beyond better and race to the future.