NEWS
Pushing through SSD bottleneck, further boosting computing performance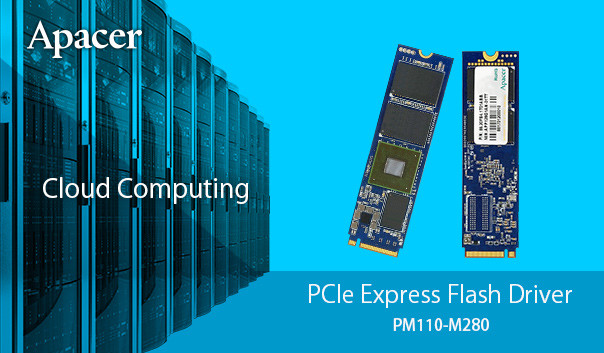 February 23rd, 2017, Taipei, Taiwan - Addressing users' requirements for faster big data processing and real-time computing, Apacer Technology has launched the industrial-grade extreme performance PCIe SSD PM110-M280 to satisfy enterprise applications, including cloud computing, IoT and virtual environment. Transmission speed of up to PCIe Gen3 x4 and support for industrial-leading NVMe (Non-Volatile Memory Express) greatly improves IOPS and low latency performance, pushing through the bottleneck of AHCI standard in the past, fully maximizing SSD performance.
Changes in technology have resulted in challenges, such as high data volume, speed and diversity. For a long time, IT infrastructure has been trying to keep up its efficiency and speed to meet the challenges of the big data era. Increasing the system's IOPS has become the key. Providing the solution for fast processing of big data, Apacer has launched PCIe SSD PM110-M280. Using emerging standard NVMe rather than AHCI provides greater performance boost, allowing for higher bandwidth, low latency and greatly increased IOPS, which are advantageous in cloud computing, real-time analysis and IoT. In terms of power management, NVMe's autonomous power state transition and dynamic power management extend battery life for mobile devices. Furthermore, the exceptional applicability and compatibility of NVMe SSD allows it to be widely adopted in major operating systems, including Windows, Linux, Solaris, Unix, VMware and UEFI.
Apacer's new-generation SSD PM110-M280 (M.2 2280) uses PCIe Gen3 x4 interface and is compliant with the latest NVMe 1.2 specifications. At 4K, the SSD achieves random read and write performance of up to 293,000 IOPS and 194,000 IOPS respectively, demonstrating supreme computing performance. Due to its slim and lightweight form factors, the M.2 2280 offers more flexible applications – meeting requirements of diverse specifications, such as expandable and embedded devices, while providing exceptional reliability and transmission performance.
Meeting stringent requirements of industrial-grade storage devices, PM110-M280 is built with proprietary core technologies to achieve performance reliability, longevity and speed. It has built-in thermal throttling and thermal sensor to monitor temperature in order to increase product reliability; features ECC and Global Wear Leveling, and SMART system that automatically detects and analyzes product use status, as well as end-to-end data protection. The adoption of new evolved 4K Page Mapping firmware technology solves problems in small random data writes and extends the SSD's product lifespan. SSDWidget provides anytime, anywhere and real-time monitoring function. Apacer ensures supply stability and low compatibility risk for NVMe PCIe SSD. Once products are verified by customers, Apacer will offer Fix B.O.M guarantee to ensure highly reliable product supply. Apacer provides customers with highly reliable guarantee and comprehensive service through stringent manufacturing quality and excellent firmware technology support.
View More News at CyberMedia Press Center: https://www.cybermedia.com.tw/news
About Apacer
Apacer Technology Inc. offers a wide range of industrial SSD, digital consumer products and memory modules. Together with its broad R&D, design, manufacturing, and marketing strengths, it has become a leading global manufacturer in the industry. Since its establishment, Apacer has always followed its promise, "Access the best," to produce reliable, innovative products and services. Apacer supplies customers with high performance, reliable, high value memory modules and flash memory via a marketing network that stretches across worldwide distributors, product manufacturing facilities, and retail consumers. Apacer provides innovative, state-of-the-art digital storage products to store, record, and share the digital information crucial to their work and essential to their daily lives.