NEWS
BenQ W1090 Home Projector - The best choice for Sports Match and Movie
Sport Mode Brings Every Player, Goal, and Blade of Grass to Life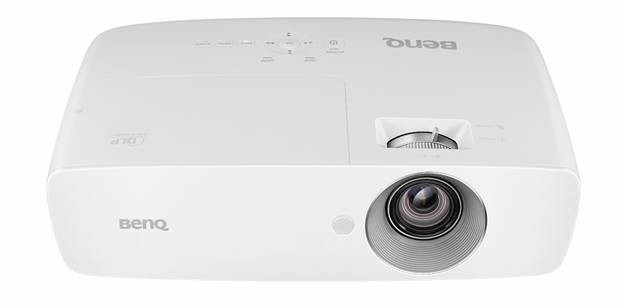 Friday 21st April 2017, Taipei, Taiwan - BenQ, the internationally recognized innovator of digital lifestyle products and a worldwide leader in home projection technology sets a new standard for viewing sports in the comfort of one's living room — The W1090 projector. The W1090 featuring Sport Modes takes the thrill of watching the big game out of the sports bars and into fans' homes with 100 inches of crystal-clear 1080p high-definition enhanced with Waves audio, making every detail more life-like and realistic. Bringing this realism home is easy thanks to the W1090's simple installation, short-throw projection with 100 inches at 2.5 meters, 1.3x zoom, and MHL connectivity.
Sport Mode Brings Every Player, Every Goal, Every Blade of Grass to Life
When it comes to winning performance, the W1090 fields an impressive list of features, led by a powerful pair of Sports Modes to improve both video and audio performance. Sport Picture Mode blends digital picture enhancements with stunning color reproduction that puts viewers inside the action. Colors are more lively and lifelike, while image details are crisper and clearer right down to the blades of grass under the player's feet. Sport Sound Mode transports viewers to the heart of the cheering crowd where they can hear crack of the ball on the bat and the swish of the net.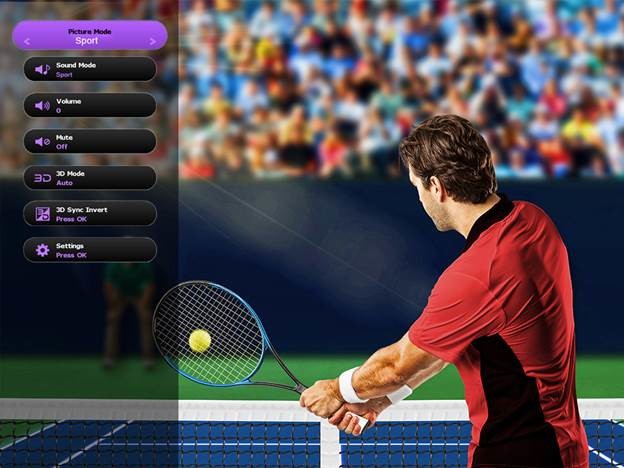 Brilliant Audiovisual Performance in 1080p
The W1090 delivers Full HD 1080p image quality for sharper visuals, making it perfect not just for viewing high-definition sports broadcasts, but also enjoying Blu-ray videos and movies. The result is picture-perfect high-contrast quality without downscaling or compression. The projector's turbo-charged RGBRGB color wheel boasts 6X speed and BrilliantColortm Technology to take color depth to the limit for incomparable brilliance and clarity. The W1090 also puts your ears inside the action with its build-in 10-watt speaker housed in a resonant sound chamber and boosted by BenQ's own Audio Enhancer — powered by MaxxAudio.
BenQ DLP® Projectors
Perfectly Long Lasting Picture Quality with DLP Projection Technology
Digital Light Processing (DLP), awarded 2015 Academy Award of Merit (Oscar® statuette), is the leading projection technology used in 90% of world's digital cinemas and 100% of IMAX theaters. With DLP dominating the worldwide projector market with over 50% share, BenQ is today the #1 bestselling DLP projector brand, delivering unmatched world-class performance.
Accurate
W1090 produces the most intensely realistic colors and vivid images possible. By combining pioneering BenQ innovations such as interchangeable six-segment color wheels with DLP BrilliantColor™ Technology, our W1090 projectors accurately reproduce hard-to-match colors such as skin tones and precisely render Rec.709 and sRGB standards.
Long Lasting
The incredibly durable micro-mirrors of the DMD chip and the nearly-sealed DLP engine design mean that BenQ DLP Projectors stand the test of time without any loss in picture quality. Eliminating dust buildup and heat damage, BenQ projectors shine year after year and look as good as new with a simple lamp change.


Razor-sharp
Critically acclaimed for industry-leading high contrast, W1090 also produces the most crisply defined sharpness for crystal-clear details and legible text by maximizing the fill ratio of individual pixels and employing exclusive BenQ SmartEco™ Technology.
Easy and Flexible Installation
Bringing such an immersive experience out of the sports bar and into the living room might seem a tricky task, but the W1090 is surprisingly easy to set up and operate. The projector's 1.15 throw rate means that users can achieve a 100" picture size with the projector situated just 2.5 meters from the viewing surface. The vertical keystone and 1.3x zoom perfectly adjusts and aligns the picture at any angle or distance. An intuitive, user-friendly interface makes operations a snap, even for those with no prior projector experience.
User-Friendly Connectivity
As with any pro athlete, flexibility is the key to peak performance and the W1090 is no different. The projector features a USB type-A power supply connector for effortless operation and device charging. The W1090 also supports MHL-enabled devices through an MHL connector. Standard high-definition video sources can be connected via two HDMI inputs. An optional FHD kit adds further flexibility with wireless connectivity.
Sports fans have a new reason to cheer. The BenQ W1090 home entertainment sports projector puts them right where the action is in their own living rooms, making it easier than ever to catch every hit, block, kick, or goal in 1080p detail.
For availability, please contact to Kazakhstan distributors:
KazInterService Group
Tel.: +7 (727) 2521277
Add.: 050000, Zheltoksan st., 162, Almaty, Kazakhstan
ST Networks Distribution Company
050013, office13 B, 13, Republic Square, Almaty
Tel./Fax: +7 (727) 250 89 62; 250 89 63
AK Cent Microsystems Ltd.
Almaty, Kazakhstan
Phone/ Fax +7 (727) 3832055 (56)
For more information, please visit www.BenQ.com
View More News at CyberMedia Press Center: https://www.cybermedia.com.tw/news
About BenQ Corporation
Founded on the corporate vision of "Bringing Enjoyment 'N' Quality to Life", BenQ Corporation is a world-leading human technology and solutions provider aiming to elevate and enrich every aspect of consumers' lives. To realize this vision, the company focuses on the aspects that matter most to people today – lifestyle, business, healthcare and education – with the hope of providing people with the means to live better, increase efficiency, feel healthier and enhance learning. Such means include a delightful broad portfolio of people-driven products and embedded technologies spanning digital projectors, monitors, interactive large-format displays, digital cameras and camcorders, mobile computing devices, and lighting solutions. Because it matters.
About BenQ Group
The BenQ Group is a $22+ billion powerhouse comprised of nearly 20 independent companies operating in over 30 countries across numerous industries with a combined workforce of over 100,000 employees. Each Group member is a recognized leader in its own field, contributing to the BenQ Group's vast resources, broad R&D, and distinct strategic strengths. By leveraging each company's vertical specialization to create true scale across horizontal markets, the BenQ Group controls a highly efficient value chain with the unrivaled ability to deliver critical components and world-class solutions in the following industries: TFT-LCD, green energy, fine chemicals and advanced materials, lighting, IC design, precision components, system integration, branded business, and service. The Group is committed to profitable and sustainable businesses that share its long-standing vision of Bringing Enjoyment 'N' Quality to Life.
The BenQ Group companies are: BenQ Corporation, AU Optronics Corporation (world's top manufacturer of large-size TFT-LCD panels), Qisda Corporation, Darfon Electronics Corporation, BenQ ESCO Corp., BenQ Materials Corp., BenQ Guru Corp., BenQ Medical Center, BenQ Medical Technology Corp., BenQ AB DentCare Corp., Daxin Materials Corp., Dazzo Technology Corp., Darwin Precisions Corp., Lextar Electronics Corp., LILY Medical Corp. and Raydium Semiconductor Corp..