NEWS
Optoma Launches New High Brightness Laser
Ultra Short Throw Projector – ZH420UST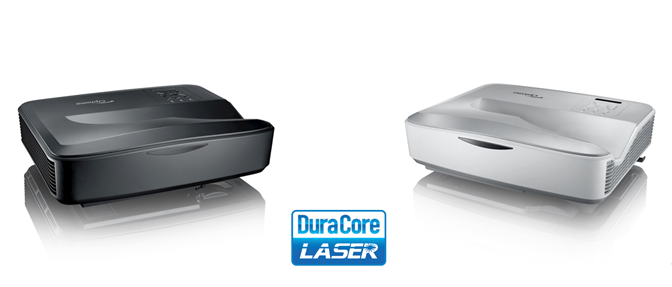 August 29th, 2018, Mumbai, India – Optoma launches today a new high brightness laser ultra short throw projector - ZH420UST. Building on the ZH400UST, this new model is powered by DuraCore laser light source, and offers multiple advanced installation features, including built-in edge blending and warping, HDBaseT, four-corner correction, etc.. It is designed perfectly for education, corporate, and professional installations where UST projection is desired for unique environmental requirement.
Gordon Wu, Assistant Vice President at Optoma APAC, commented: "The ZH420UST is the first Full HD 1080p ultra short throw projector with built-in edge blending and warping adjustments, combining flexibility and reliability with incredible performance. It is, therefore, the optimum solution for museums, zoos, sports stadiums, and more!"
Equipped with Optoma DuraCore laser technology and IP5X certification, the ZH420UST is powered by long-lasting, low maintenance, lamp-free, laser light source. It delivers consistent, high brightness of up to 20,000 hours with 24/7 operation. Covering 114% Rec709 colour gamut, Optoma ZH420UST offers superior colour reproduction with vivid, lifelike images.
For large-scale projection, Optoma ZH420UST features built-in edge-blending and warping. With an HDBaseT™ input included, it simplifies cabling requirements and reduces installation complexity, saving both time and costs.
In addition, Optoma ZH420UST comes with the added benefit of four-corner geometric adjustment and versatile orientation, including portrait mode and downward projection. It allows quick and accurate installation with a flexible, powerful, and bright UST projector range. The versatility makes Optoma ZH420UST the ideal signage solution where space or accessibility can be limited, such as shop windows or retail displays.
ZH420UST Key Features
20,000 hours maintenance-free laser light source at full brightness
Dust resistant – Independently tested, IP5X certification for total reliability
Bright 4000 lumens 1080p ultra short throw projector
Versatile installation – supports portrait and downward projection
Integrated HDBaseT receiver, and warping and blending
Contact Local Sales:
Senthil Kumar, Mobile: +918008999901
For more information about Optoma, please go to www.optoma.com/ap/.
View More News at CyberMedia Press Center: https://www.cybermedia.com.tw/news
About Optoma
Optoma is a world leading designer and manufacturer of projection and audio products for business, education, professional audio/video and home entertainment.
With our business philosophy of dedication, professionalism and efficiency which bring synergy to corporate vision, comprehensive product categories and flexible marketing strategy, Optoma has received global recognition from customers and media.
Vertically-integrated from its parent company, Coretronic Group, Optoma has focused on projection system development and marketing since it was established. With full competency of resource distributing and controlling in the value added chain, Optoma is the true pioneer in the world of projection technology.
The extensive product range includes projectors for portable, fixed installation and home theater projectors. Committed to fully serve the business/education, home, mobile/entertainment, Optoma is devoted to make your business more efficient, learning more attractive, and life more enjoyable.
The Optoma Group has continental headquarters in Asia, Europe, and USA.