NEWS
COLORFUL Takes the RTX 2070 to Its Limits, Debuts iGame GeForce RTX 2070 Vulcan X OC Graphics Card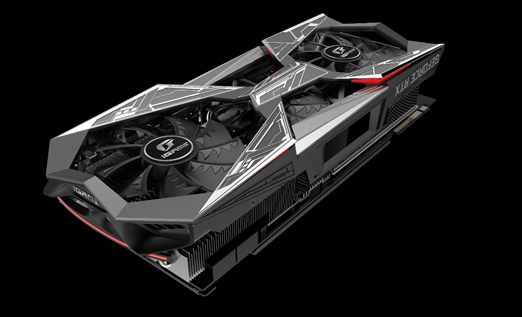 October 31st, 2018, Shenzhen, China – Colorful Technology Company Limited, professional manufacturer of graphics cards, motherboards and high-performance storage solutions is proud to announce the newest inclusion in the premier COLORFUL Gaming line of iGame products with its most advanced RTX 2070 graphics card yet. The new COLORFUL iGame GeForce RTX 2070 takes the new Turing-powered GPU to its limits with improved Vulcan Thermal Design and a significant overclock out of the box with a simple press of a key. The iGame GeForce RTX 2070 Vulcan X OC joins the rest of the iGame family of gaming products that deliver the best quality from COLORFUL, refined with feedback from gamers themselves.
Improved Vulcan Thermal Design
The iGame GeForce RTX 2070 Vulcan X OC integrates key design elements that allow it to operate cool to bring out the full potential of the GPU. New saw sickle fans improve static pressure up to 115% versus traditional fan designs which delivers improved cooling. Dual-ball bearings on the fans assure extended lifespan that will last for years all the while offering silent operation even in heavy load. The Vulcan cooling solution also integrates a Fan-Stop Technology to reduce noise to dead silence. The fans on the iGame GeForce RTX 2070 Vulcan X OC stops when its below 55°C. The compound heat pipes round off the GPU cooling which combines good thermal conductivity as well as phase transition to manage heat transfer from the GPU to the heatsink efficiently. COLORUFL has also taken time to implement a good MosFET cooling solution integrating the MosFET heatsink with the entire GPU cooling solution for improve power condition.
High Quality Components
In true iGame tradition, COLORFUL uses only the best and finest components in their iGame products to deliver the best quality and performance that gamers demand. The iGame GeForce RTX 2070 Vulcan X OC uses ultra longlife Hi-C capacitors that ensure extended durability versus traditional solid-state capacitors. DrMOS on the other hand lets COLORFUL maximize PCB space to optimize cooling and deliver superior performance.
iGame Features
Fully customize your iGame product to reflect your gamer passion with customizable iGame Dynamik Light for a high degree of freedom in adjusting and creating your own light effects. iGameZone II lets you take your COLORFUL iGame GeForce RTX 2070 Vulcan X OC further and unleash its full power. The most visible feature of the Vulcan X cooling, the Status Monitor, allows realtime monitoring directly on the VGA card so vital information is displayed on the card itself without needing to bring up monitoring software. View card details like clock speeds, temperature, VRAM usage and more.
Visit COLORFUL at Facebook: https://www.facebook.com/ColorfulGlobal/
View More News at CyberMedia Press Center: https://www.cybermedia.com.tw/news
About COLORFUL
Colorful Group (CFG), is a manufacturer of motherboards, graphics cards, PSUs, chassis, tablets, Hi-fi players, power bank, Mini PC, industrial control computer and service with over 18 years of experience delivering quality products garnering a brilliant reputation amongst its customers. CFG is an internationally renowned brands garnering recognition and awards. For more information, visit http://www.colorful.cn