NEWS
DIYPC Expands Gaming Case Line with new DIY-SD1-RGB Mid Tower Chassis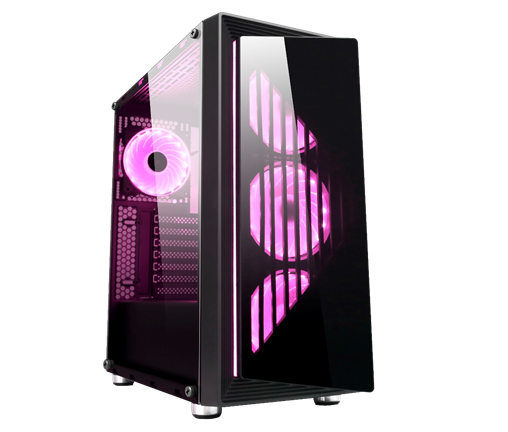 January 22nd, 2019, California, United States – DIYPC, leading professional manufacturer of computer cases and accessories (case fan, hub, headset, mouse) base in China which mainly focus on overseas market. DIYPC is thrilled to share with everyone the announcement of its latest addition to its gaming line of chassis for gamers and enthusiast PC builders. The DIY-SD1-RGB features a stylish, aggressive front panel in a compact ATX tower format. This is perfect for gamers and builders looking for an aggressive, gaming build with great features but at a smaller footprint than traditional, larger midtowers. The DIY-SD1-RGB features tempered glass panels to showcase the components of your build and includes preinstalled RGB fans for further lighting customization that is sure to be a great foundation for your build.
The DIYPC DIY-SD1-RGB will have an MSRP of $109.99.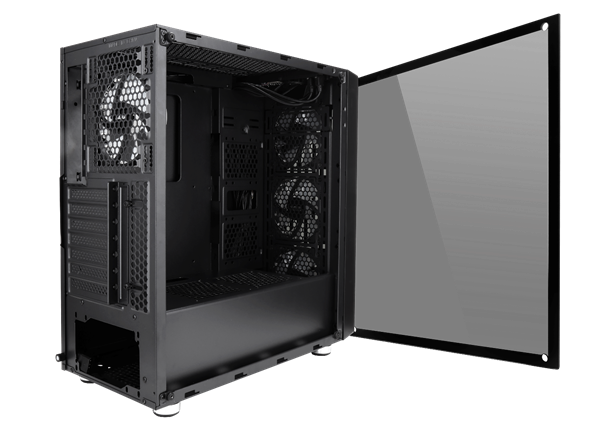 Aggressive Design and Great Build
The DIY-SD1-RGB features an aggressive front panel design which showcases a tempered-glass panel that exposes a nicely designed front intake. The front panel design shows off the three 120mm RGB fans on the front which comes pre-installed for free with the DIY-SD1-RGB chassis. Just like the front panel, the side window panel is also made of tempered glass. At 4mm thick, these tempered glass panels provided excellent protection as well as a stylish way to showcase your internal components. The chassis has a built-in lower chamber for the power supply as well as other components which keeps the main chamber clutter free.
The DIY-SD1-RGB features a 29mm gap in the back of the motherboard tray to allow ample space to manage your cables and the chassis has tie-down provisions so you can further secure your cables.
Cooling Support and Customization
Cooling support for both liquid and air cooling is present with the chassis supporting up to a whopping 180mm tall heatsink coolers. A 240mm radiator can be mounted on the front intake for AIO or liquid cooling installations. The DIY-SD1-RGB also comes pre-installed with four 120mm addressable RGB 18-LED fans. The fans are controlled with the integrated RGB fan controller and is AURA-compatible. The fans have 7 different colors in 3 effect modes and allows out of the box custom RGB lighting effects.
Front panel IO have been placed on the front area for easy access and allow DIYPC to fully utilize a stylish tempered glass panel on the front to showcase the pre-installed RGB LED fans.
A maximum of 8x 120mm fans can be installed in the chassis for excellent airflow. The built-in bottom dust filter also allows easy maintenance for the bottom-mounted PSU for improved airflow and performance of the power supply. For easy maintenance, a magnetic dust filter is also installed on the top for hassle-free cleaning.
The chassis supports long graphics cards up to 395mm long.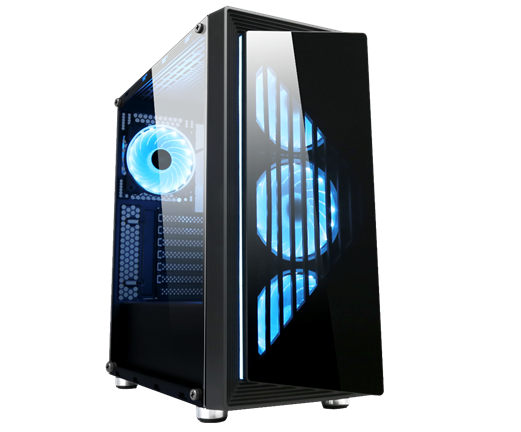 For more information on the DIY-SD1-RGB chassis, please see official product page: https://www.mydiypcusa.com/diypc-diy-sd1-rgb-black-dual-usb3-0-atx-mid-tower-gaming-computer-case-w-dual-tempered-glass-panels-and-pre-installed-4-x-addressable-rgb-led-fans
Visit DIYPC at Facebook: https://www.facebook.com/DIYPCUSA/