NEWS
DIYPC Announces Premium RGB Chassis for Gamers and Enthusiasts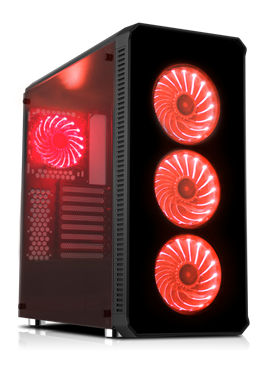 February 15th, 2019, California, United States – DIYPC, leading professional manufacturer of computer cases and accessories DIYPC, leading professional manufacturer of computer cases and accessories (case fan, hub, headset, mouse) base in China which mainly focus on overseas market. DIYPC is proud to introduce its premium chassis for featuring stylish premium glass and RGB lighting as well as excellent features for cooling and maintenance. The DIYPC Vanguard-RGB offers great value for its feature offerings and will be sure to impress system builders and enthusiasts alike looking for a modern chassis with modern enthusiast features but an attractive price.
The DIYPC Vanguard-RGB will have an MSRP of $129.99.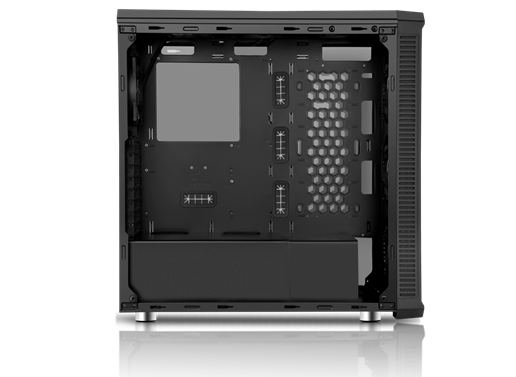 Premium Features for Any Build
The DIYPC Vanguard-RGB supports full ATX, microATX and mini ITX motherboards and its spacious design allows it to house many components for more intricate builds. DIYPC designed the Vanguard-RGB chassis to support straight builds with air or AIO liquid cooling or monster builds with custom liquid cooling solutions. DIYPC has made sure the Vanguard-RGB can grow with the user as he builds up from a basic build to a high-performance monster rig.
The Vanguard-RGB chassis has great attention to details in terms of component placements and allowances. The chassis can accommodate up to 180mm height air tower coolers and 440mm long graphics cards. For easier cable management, DIYPC gives the Vanguard-RGB 33mm of space behind the motherboard tray for easier cable maintenance and access. The rear of the chassis can also hold up to six 2.5" SSDs and three 3.5" HDDs. DIYPC has included a smart rear mounting for the drives as well as on the front for the SSDs.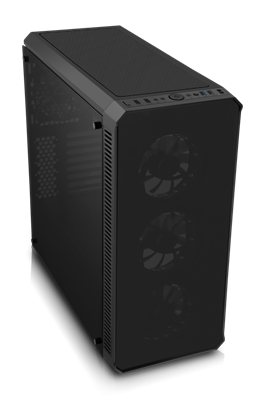 DIYPC has installed high-quality tempered glass on both side panels as well as the front of the chassis. This allows users to showcase both the internals of the build as well as their cable management at the back and the front panel glass rounds off the build aesthetics with a clear look at the RGB fans. All three sides (front, left and right) feature a premium 4mm thick tempered glass panel which gives a strong and premium feel to the chassis while maintaining both strength and aesthetics.
The Vanguard-RGB has four 120mm preinstalled RGB LED fans (3 on the front, 1 on the rear) for out-of-the-box cooling and aesthetics. Up to 7 120mm can be installed in total inside the chassis. The pre-installed RGB LED fans support up to 7 different colors and 3 effects control.
Front panel I/O includes dual USB3.0 ports for high-speed transfer as well as legacy USB2.0.
The chassis also has built-in LED control for the RGB fans as well as a fan-speed controller to control noise levels of the fans.
Cooling Support and Customization
The DIYPC Vanguard-RGB chassis has plenty of space to work with for custom watercooling. Enthusiasts can install radiators on multiple areas of the chassis including and up to a 360mm radiator on the front and top as well as a 240mm radiator on the side.
Ease-of-maintenance feature include removable filters on the top and bottom of the chassis. Intake vents are on the sides of the chassis for improved airflow and the PSU chamber is separate and hidden from view from the motherboard side, allowing for a clean look. The chassis is comprised of .8mm steel for superior durability and stability.
For more information on the DIYPC Vanguard-RGB chassis, please see official product page: https://www.mydiypcusa.com/product/computer-case/tempered-glass-cases/vanguard-series/diypc-vanguard-rgb-black-dual-usb3-0-steel-tempered-glass-atx-mid-tower-gaming-computer-case-w-tempered-glass-panels-front-and-both-sides-and-pre-installed-4-x-rgb-led-fans-7-differ
Visit DIYPC at Facebook: https://www.facebook.com/DIYPCUSA/
View More News at CyberMedia Press Center: https://www.cybermedia.com.tw/news
About DIYPC
DIYPC is one of the leading professional manufacturers of computer cases and accessories (case fan, hub, headset, mouse) base in China. Our efforts in researching, developing and producing has garnered DIYPC a widely positive reputation in the computer market in both domestic, however, focus on overseas market.
Through several years of rapid development and expansion, DIYPC has more than 200 employees and 2 factories located in Jiangsu and Shenzhen, China. DIYPC also has expansion in the west with a marketing and sales headquarters located in California, USA. This gives it a strategic advantage in terms of coverage when it comes to delivering its product to a worldwide audience.
The factory has more than 8,000 square feet workshop which is equipped with several modern productive lines and achieved computerized management, thus we have more than 20 core technologies and unique products. The company has independent import & export right. Our selective products have been approved and pass multiple safety certifications such as CE, FCC, UL and ROHS. Also, the products are very welcomed within over 20 countries in Europe, America and Asian area. For more information, visit the official website: https://www.mydiypcusa.com/