NEWS
Bask in RGB Light With NZXT H-Series Chassis Promotion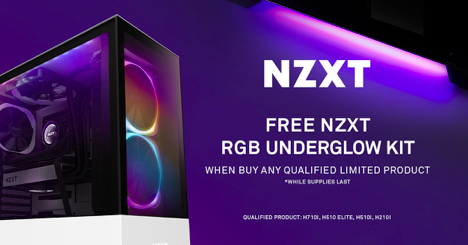 September 25th, 2019 Kuala Lumpur, Malaysia – NZXT – a leading developer of software-powered hardware solutions for PC gaming, is announcing its latest promotion for their new H-series refresh chassis as well the H510 Elite. Qualified purchases will receive a free NZXT Underglow RGB LED lighting kit with their H-series chassis to accentuate their new setup. See details below for more information about promotion.
Promotion Details:
Customers purchasing NZXT H-Series refresh chassis will receive a free NZXT Underglow LED kit accessory with their chassis purchase.
Buy any qualifying case as listed below:

NZXT H710i
NZXT H510 Elite / H510i
NZXT H210i

Those who purchase NZXT H710i will receive an NZXT Underglow 300mm kit
Those who purchase NZXT H510 Elite / H510i / NZXT H210i will receive an NZXT Underglow 200mm kit
Promo open until supplies last. Please call the shop to confirm they have available stocks or contact NZXT Malaysia Facebook Fanpage directly to get immediate response on the availability of the supply for the underglow. NZXT official Distributor Dotatech will be able to direct you to direct reseller who still have supplies for the promotion, if still available.
The New NZXT H-Series
The all-new H Series is available in matte black, matte white, and matte black and red. This new iteration of the H Series will include flush tempered glass mounting, allowing it to be installed with a single captive thumb screw for easier access to the interior of the case, as well as improved SSD trays. In addition to several improvements that allow for a smarter building experience, the new H Series will be equipped with a front-panel USB C connector supporting high-speed USB 3.1 Gen 2 devices.
The i versions of the new H Series include the new Smart Device v2 powered by NZXT CAM. The Smart Device v2 includes a new, faster microprocessor that controls two HUE 2 RGB lighting channels and your system's fan curves. All of this is powered through NZXT CAM, which gives users the power to customize their computer's RGB lighting and the monitoring capabilities to understand your system's thermals and usages.
The All-New H Series Features
More Modern
With a USB 3.1 Gen 2-compatible USB-C connector on the front panel, it's easier than ever to connect the newest smartphones, high-speed external storage, or the latest peripherals to your PC. The clean, modern design, iconic cable management bar, and uninterrupted tempered-glass side panel showcase your stunning build.
Powered by NZXT CAM (i Version Only)
Use the intuitive NZXT CAM application to monitor and control your build, choosing from presets or custom controls for your RGB lighting and fans to create your dream PC. The new Smart Device v2 includes a faster microprocessor for NZXT CAM-powered control of two HUE 2 RGB lighting channels and three fan channels that support either voltage regulated or PWM fans.
Streamlined Cooling
Aer F120mm fans* are included for optimal internal airflow and the front panel and PSU intakes include removable filters. Includes a reversible, removable, top-mounted bracket designed for radiators up between 240mm - 360mm** simplifies the installation of either closed-loop or custom-loop water cooling.
Enjoyable Builds for All
Cable management can take more time than assembling a system. Our patented cable routing kit with pre-installed channels and straps makes wiring easy and intuitive and easy.
H510i/H710i VERTICAL GPU MOUNTING
Show off your graphics card with a built-in mounting bracket for installing your GPU vertically.
NZXT Underglow Kit
Easily add gorgeous underglow lighting to nearly any PC case using the HUE 2 Underglow accessory. You get everything you need* - from extension cables to a PCI pass-through bracket - for RGB underglow lighting and effects, all powered by CAM. Sync with the rest of your HUE 2 accessories for fully integrated lighting.
For more details about the new products please visit: https://www.nzxt.com/product-overview/h-series
For more information on where you can find Elite and H-series please contact NZXT DISTRIBUTOR: Dotatech
(https://www.dotatech.com.my/)
View More News at CyberMedia Press Center: http://www.cybermedia.com.tw/news
About NZXT
Founded in 2004, NZXT is a leading PC designer developing an ecosystem of smart products and services, each fueled by a passion for PC gaming. Their award-winning products include computer cases, PC cooling solutions, RGB lighting kits, power supplies, and their free PC monitoring software CAM. NZXT loves gaming PCs and the people who build them, and are dedicated to improving their products and services to make building extraordinary PCs achievable and fun for everyone. For more information, visit the official website: https://www.nzxt.com/
If you wish to update your profile or unsubscribe the press release, please contact us at NEWS@cybermedia.com.tw