NEWS
Transcend StoreJet for Mac Series Brings Elegance and Efficiency for Mac Computers
March 24th, 2016, Jakarta, Indonesia - Transcend Information, Inc. (Transcend), leading manufacturer of storage and multimedia products, now brings you the exclusively hard disk for Mac- SJM300 and SJM500 to match with your Apple laptops.
The SJM300 Portable Hard Drive and SJM500 Portable Solid State Drive (SSD) offer immense storage space and superior data transfer speeds. In addition, the HDDs are natively formatted in HFS+ and fully support Time Machine®, allowing users to simply plug and play.

SJM300 Portable Hard Drive & SJM500 Portable Solid State Drive
Equipped with Thunderbolt™ and USB3.0 Interfaces for Higher Efficiency

Thunderbolt interface for lightning-fast speeds
With advanced Thunderbolt technology, both the SJM300 portable hard drive and SJM500 portable SSD deliver unparalleled interface transfer rates of up to 10 Gb/s*. For universal connectivity, both models are also equipped with a SuperSpeed USB 3.0 port (SJM500 with UASP support for even higher transfer rates), providing 10 times the bandwidth of USB 2.0.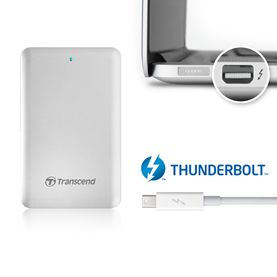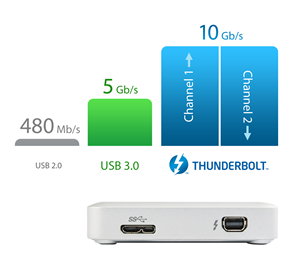 *Maximum interface transfer rates shown. Performance varies by capacity, user hardware and system configuration.
Sturdy and elegant metallic design
The SJM300's internal hard drive suspension system gives the hard drive comprehensive protection, whereas the SJM500 SSD can withstand 5 times greater shock than hard drives. Moreover, their quality metallic design complements Macs with a sleek and elegant look. SJM300 portable hard drive offers 2TB of storage space and SJM500 portable SSD is offered in capacities ranging from 256GB to 1TB.
StoreJet 300 Portable Hard Drive StoreJet 300 Portable Hard Drive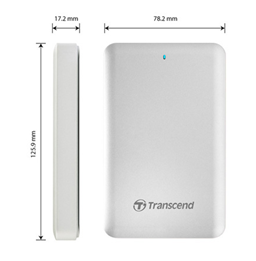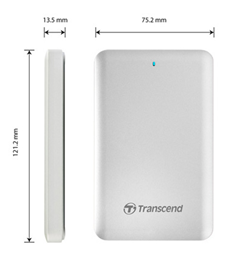 Transcend Elite software
All models of the StoreJet for Mac series include Transcend Elite, a user-friendly application for data management and encryption, protecting your data and increasing your productivity. With Elite, your Transcend storage device can keep important files organized, protected, and up-to-date. All models carry Transcend's three-year limited warranty.
Mac® and Time Machine® are trademarks of Apple Inc; Thunderbolt™ is the trademark of Intel Inc.
*Compatibility Table
PN

Capacity

MSRP (IDR)

Warranty

TS2TSJM300

2TB

3,766,000

Three-year Limited Warranty

TS256GSJM500

256G

4,046,000

TS512GSJM500

512G

6,986,000

TS1TSJM500

1TB

12,306,000
*Product Website Link: http://id.transcend-info.com/apple/sjm
*Transcend Indonesia Fan Page: https://business.facebook.com/TranscendID/
View More News at CyberMedia Press Center: https://www.cybermedia.com.tw/news
About Transcend
Transcend is a globally recognized leader in the manufacture of storage, multimedia and industrial products. Established in Taiwan in 1988, Transcend offers a full line of standard and proprietary memory modules, car video recorders, Apple solutions, flash cards, USB flash drives, portable hard drives, solid-state drives, digital music players, card readers, multimedia products and industrial products. Transcend has established offices in the United States, the United Kingdom, Germany, The Netherlands, Japan, Korea, China and Hong Kong. As a customer-focused company, Transcend has the ability to quickly respond to the market's changing needs. For more information, please visit www.transcend-info.com