NEWS
BIOSTAR DEBUTS THE AM2 GAMING MOUSE
All you need for your first gaming mouse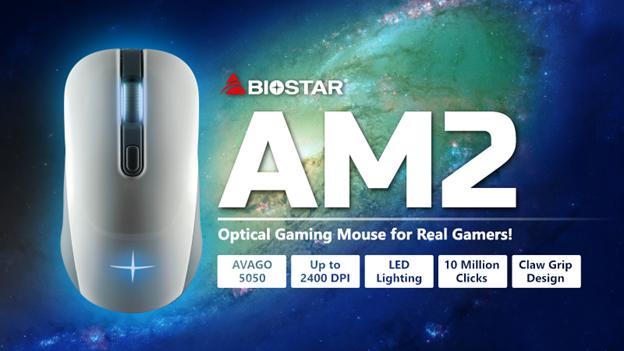 September 22nd, 2016, Taipei, Taiwan – BIOSTAR is pleased to announce the introduction of its first gaming mouse designed to offer gamers everything they need for their first-ever gaming mouse. BIOSTAR today introduces the new BIOSTAR AM2 gaming mouse featuring an Avago 5050 sensor capable of up to 2400DPI of tracking, perfect for gamers who are looking for their first gaming mouse.
As competitive gaming grows more and more, the trend in high-performance gaming mice has become a challenge for both gamers and manufacturers as it's a challenge to find the middle-ground for the various gaming genres and preferences. As BIOSTAR is well-known for its value-based proposition, it takes this into consideration as well as feedback from gamers into the design of the BIOSTAR AM2 gaming mouse. The result is a striking balance of performance and quality in a simple offering meant for any and all gamers who want the most essential features like on-the-fly DPI switching, comfortable grip and excellent tracking.
A simple style mixed with highly accessible function makes it very at-home with gamers, experience or just starting, with their first high-performance gaming mouse. Designed for comfort, performance and durability, the BIOSTAR AM2 gaming mouse understands the needs of those new to the search for the first gaming mouse and introduces an affordable balance that marries the best of this price point with BIOSTAR's engineering technology.
The BIOSTAR AM2 gaming mouse will have an attractive retail price of $9.99.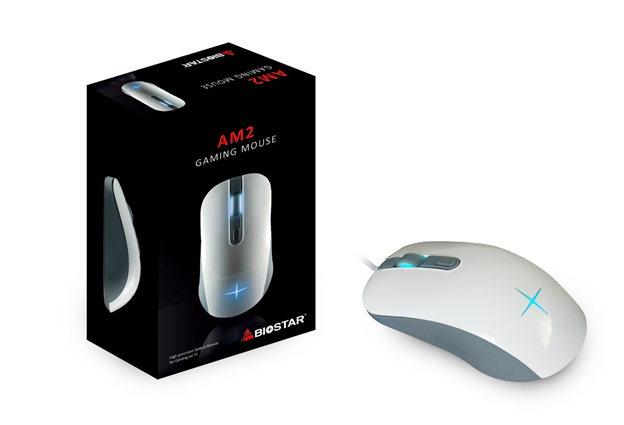 The BIOSTAR AM2 gaming mouse features the raw essentials needed to get started in advanced gaming peripherals. The BIOSTAR AM2 is designed with the raw feel needed to give gamers a better experience with their games especially fast-paced eSports and competitive titles. The BIOSTAR AM2 features an on-the-fly DPI toggle button allowing quick cycling between preset DPI settings for unhindered gaming and rapid adjustment so you get the best sensitivity when you need it. The built-in LED lighting switches colors to indicate the DPI setting which are as follows " 4 DPI steps: default 800 DPI starts with no color, 1200 DPI which is blue, green for 1600 DPI and blue-green for 2400 DPI. This mixes in style with function which converges both the unique gamer-style with actual function.
The HUANO switch provides excellent tactile feedback and durability lasting up to 10 million clicks for non-stop gaming.

The BIOSTAR AM2 gaming mouse is designed to be an ambidextrous mouse for use by both left- and right-handed gamers. The size is optimized for claw- and fingertip-grip for precision control even in the most intense games but provide the swift response of the grip of your choice. The high-gloss mirror UV surface makes the mouse easy to clean and doesn't absorb dust or dirt giving it that shiny, fresh look everytime especially when you bring it to LAN parties or gaming tournaments. Teflon mouse feet provide a slick and smooth glide for unhindered movement and friction reduction.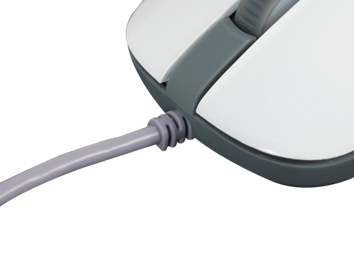 BIOSTAR designs the AM2 gaming mouse with an anti-pull wire for durability functions.
AM2 Specifications
| | |
| --- | --- |
| Model | AM2 |
| Color | White |
| Dimension | 122x66x38mm (L x W x H) |
| Weight | 125g |
| Cable Length | 1.8m |
| DPI/LED | 800 (Default) / 1200 (Blue) / 1600 (Green) / 2400 (Blue-Green) |
| Lifespan | 10 Million Clicks |
| Interface | USB |
| Safety Certifications | CE / FCC |
| OS Support | Win 10 / Win 8 / Win 7 / VISTA / Win XP / Win2000 |
Visit the new BIOSTAR website at: http://www.biostar.com.tw
Read more about BIOSTAR 30 Years anniversary: http://www.biostar.com.tw/app/en/event/30years/index.htm
For more information on the BIOSTAR AM2 gaming mouse go to: http://www.biostar.com.tw/app/en/mouse/introduction.php?S_ID=1#specification
View More News at CyberMedia Press Center: https://www.cybermedia.com.tw/news
ABOUT BIOSTAR
BIOSTAR, is a brand dedicated to the production of motherboards, graphics cards, industrial computing systems, IOT, and healthcare solution. Since its establishment in 1986, the BIOSTAR GROUP has become a major motherboard supplier in the IT industry as well as in IOT, Internet Of Things. In order to pursue the best quality and aesthetic design, BIOSTAR has invested heavily in ID design, equipment, global marketing research as well as R & D. With a constant emphasis on quality, BIOSTAR always seeks to beyond better and race to the future.